September 2-3, 2016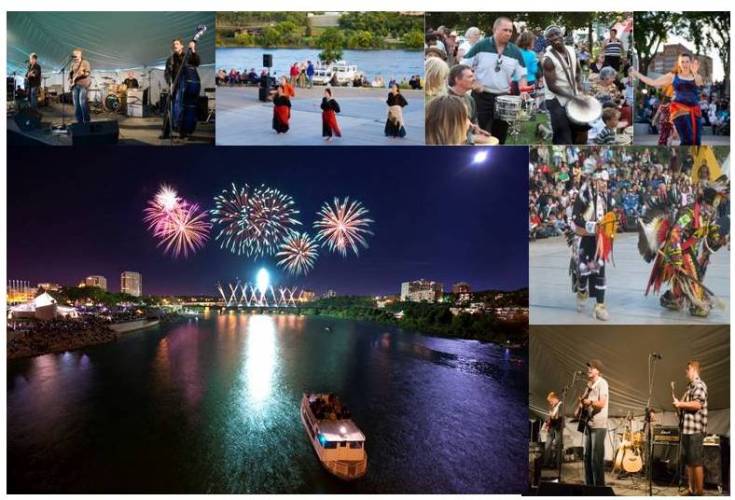 Experience the Magic!
September 2nd and 3rd, 2016

The hub of activity for the PotashCorp Fireworks Festival is Saskatoon's spectacular River Landing, along the South Saskatchewan River in the heart of Saskatoon.
Live shows take place on Friday and Saturday evenings at two locations: the Amphitheatre at River Landing and Friendship Park. Both evenings are topped off with a fantastic fireworks display set to music.
The PotashCorp Fireworks Festival is truly a community celebration. Aside from the terrific entertainment and amazing fireworks displays, the Festival features: food, fun for kids and adults, demonstrations and games, and a bike valet service.
All this and more... don't miss out - mark your calendar today!  
---
Choreographed Pyrotechnic Shows Announced
Presenter details HERE!
ROAD CLOSURES DUE TO FIREWORKS
Fireworks will be shot from BARGES IN FRONT OF ROTARY PARK on Friday and Saturday night. Road restrictions include:
CLOSED 8:00AM Friday, Sept 2: Spadina from 3rd Avenue Roundabout (MVA access maintained) to 20th Street (local access @ 20th, and full closure at ramp heading under Broadway). This will remain closed until after the fireworks are completed on Saturday midnight. 
CLOSED 8:00AM Friday, Sept 2: Spadina Crescent between 2nd and 3rd Avenue Roundabouts, Also included… 2nd Avenue from Saunders to the roundabout, and 3rd Avenue from 19th Street to the roundabout. This will remain closed until Sunday around 12:00 noon.
CLOSED 6:00PM-11pm on Friday-Saturday, Sept 2-3: Saskatchewan Crescent under Idylwyld Freeway to just pass the tennis courts by traffic bridge & EastLake. ROTARY PARK WILL NOT BE OPEN TO THE PUBLIC. 
---
The Friendship Park Mainstage - featuring various local artists!
The Friendship Park Mainstage starts at 5:00PM and will play until the fireworks begin!
---
Check out some amazing pictures from previous festivals & 'Like' us on Facebook!!!
Click here to go directly to our Facebook page!
---
Check out this video of last year's festival!
---
Planning your stay in Saskatoon? Check out the Tourism Saskatoon for amazing deals.  Don't forget to ask for your Experience Saskatoon pass as well. The Value Card gives you access to special value packs, discounts and incentives when visiting, staying, shopping or dining at Saskatoon establishments.
For more information please contact - info@saskatoonfireworksfestival.ca 
---